These cuties got married a few weeks ago.
And graciously let me take their photos. Now, I don't usually take wedding photos, but I do make exceptions for friends and really cool people.
Every once in a while it's nice to flex the wedding muscle. Plus these guys are awesome!
Oh and of course there were treats!
There comes a point in the month where guilt inevitably sets in as I look at the freezer (and how empty it is), I look in the refrigerator (and also see how empty that is); then I open the crisper and there is a plethora of previously beautiful vegetables that are hanging on for dear life. The zucchini, the yellow squash, the portabella mushrooms, red bell peppers, red onions and the list goes on.
As I live with a man, who is still un-learning that broccoli is a horrible vegetation meant to scare small children, and considers iceberg lettuce to be nutritious, it is at times hard to utilize all these beauties.
So I have resorted to making sandwiches. Who doesn't love sandwiches, right?
I slice these thin on my trusty mandolin and grill them with a little oil, salt pepper and only on the zucchini did I add some crushed red pepper for spice. I then spread some herbed chèvre on my day old baguette (yup that gets old in my house too; but it toasts better this way) pile the veggies in and broil for a minute and then drizzle with my balsamic glaze.
This mad my night, and the man's too.
POSTED IN Uncategorized
January 18, 2015
I love watching that giant fiery ball drop into the ocean. I never get tired of it. And wine, food and my man only serve to improve the experience.
The salty, smokey flavor from the rendered bacon fat with the sweetness of the onions and the briny clam juice, paired with the soft meaty clams make my knees go weak. Really, I need to sit while eating these. Needless to say, this is fast becoming one of my weekend staples.
Served piping hot with a bright glass of Sauvignon Blanc…  That is what I call Pau Hana.
I am a huge fan of snacks.
In fact the entire concept of grazing has been near to me as it allows me to always be putting food in my mouth.
This is what I assembled for the man and myself while we were watching the sunset last night. It's an olive medley with feta, Greek Olive and Garlic Hummus and a whole grain pita.
I may be trying to eat better, but I refuse to be bored with my food.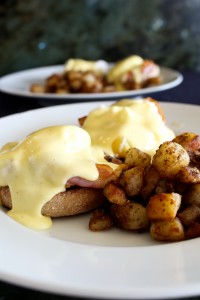 … And not the shitty out-of-a-packet crap that you get at bad coffee shops. I mean the real stuff. Homemade Hollandaise, pancetta, and perfectly poached eggs.
This picture is something that makes me salivate in these culinarily dreary days of January when we have clearly decided that those extra twenty pounds are unacceptable.
These were no mere eggs benny with the perfect crispy pancetta and whole wheat English muffin, and my mother's fried spicy potatoes, par boiled and finished in some oil and coriander, cumin, paprika and a little cayenne, fried to crispy perfection.
Yup. Diet days are here…
POSTED IN Blog
October 23, 2014
I wonder sometimes where my creativity comes from and what drives my creative spirit.
Although to be entirely honest, there has not been too much of those juices in the past three years.
Call it mourning, if you must.
It is not as if I have done nothing the past three years; I ate amazing meals cooked with love, I traveled to places that made me feel alive and filled with childlike wonder,I met the love of my life and remain head over heels in love with this man.
I have experienced life, and I have failed to catalog it.
But in the last month I seem to have found it. All of it. The art school dreams, the drive to produce art. Even my cooking has gotten better.
For the first time in a very long time I feel inspired and driven to produce.
Maybe finally I can turn this little site into exactly what it needs to be. What I dreamed it would be when I started it several years ago. What I imagined I would create with my education and experience. A place where I could bring my passion for Food, Photography and Travel to one place and experiment until something makes sense.
So here, I am turning a new page, and I will be making some changes to this site and start catering it to my dream. I will be posting photos – building my portfolio back up and working freelance on anything I can get my hands on.
I will be writing recipes and making my silly little food videos (which to this point I have been too self conscious to post).
And I will better catalog my travels and experiences.
After all, I do live in Hawaii and have done a very poor job of sharing this experience.
Welcome back inspiration.
Trahan – Fresh Wine from Lèzanne Fourie on Vimeo.
On our last trip to Napa for harvest, I took this  little video of my friend Chuck Custodio giving us a private tour of his cellar. He is the owner and winemaker for Trahan winery in Napa Valley.
The video is merely a glimpse of the tour and discusses the early fermentation process, basically where yeast and sugar mingle to make alcohol. I never knew this was in an open vat, but it would make sense as there is quite a bit of Carbon Dioxide being released.
Clearly, we have been imbibing… This is not so much of a tutorial as it is a funny little holiday video.
Enjoy.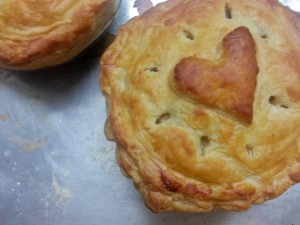 You may notice that I put a lot of things into crust, well, I sort of love crust. And I also love really good leftovers. So I combine them.
In this particular instance, I had some rotisserie chicken sitting in the fridge, and really was not in the mood for salad. And frozen puff pastry is worth it's weight in gold, and I am always well stocked in that department. I keep the stuff on-hand for whenever I need to quickly throw a dinner with a crust together, when I'm too lazy to make a short crust, when I need to encapsulate leftovers, really, this stuff is magic and needs to be in every freezer.
As this is a recipe for leftovers, you will very likely have a different array of goods to choose from.
Something to remember is that my recipes are relative, please make adjustments to suit your style. This recipe is relative for 2 individual pies.
2 Cups cubed rotisserie chicken
1 small onion
2 cloves garlic
Some mushrooms
1 celery rib
1 small carrot
Flour
Salt and pepper to taste
About 1 cup chicken stock (give or take)
1 Box frozen puff pastry left at room temperature for about 20 minutes
A little bit of milk, or one egg, whisked.
Method:
– Chop all ingredients to be about the same size.
– Heat oven to 400˚F
– In a medium skillet melt some butter  over meduim heat and sauté the onions celery and carrots. Lower the heat, add salt and sweat until soft.
– Add the garlic and sauté for about a minute before adding the chicken and mushrooms.
– Now I grow rosemary in my window box and like to add some at this time, but you can add anything you like, or nothing at all.
– Add some pepper, and taste to check the seasoning.
– Sprinkle about 1-2 tablespoons of the flour onto the mixture and stir well, make sure that there is enough flour to soak up the moisture in the bottom of the pan. but you don't want your pan to look like a winter wonderland, that's too much. you're making roux, of sorts. *Remember, moisture here will translate to a soggy crust at the end.
– Cook the flour mixtue for about a minute before removing the pan from the heat and adding some chicken stock, a little at a time,  stirring in between additions until it looks like a thick sauce with no clumps.
– Set aside and let cool while you work with the crust.
Now, working with the puff pastry, If you have never done this, it is like "rockstar in a can". Really, very easy to use and super good results. But there are a few rules to keep in mind.
1. because of the high fat content, this pastry likes to be kept cold, that's why we keep it frozen, when you defrost it and you are not quite ready to use it, stick it in the fridge.
2. handle it as little as possible and as quickly as possible
3. you really don't need to butter the pan that it is going in to but you can use a baking spray and a VERY light coating will do more than you could hope for.
Now, back to cooking…
– Clear a space of about 18″x24″ on your counter and flour the area well. Get out a rolling pin and flour that too.
-Remove the pastry sheets from the box and unfold one, and stick the otehr back in the fridge for now.
– Depending on the size of your pie dish, you may need to stretch the dough a little to make it all fit. Plus I like a lot of pastry, do I put pastry on the bottom and over the top.
-Place the flat sheet on you floured area, and push the seams of the folds back together, as to eliminate weak spots in the pastry.
– Roll the pastry out to about 1 1/2 times it's original size, but this really depens on your pie dish. Remember not to go too thin.
– Line the bottom of youe pie dishes with this sheet and let the edges hang over the sides for now.
– Fill your pie dishes with your filling, fuller than you thought would be necessary. Brush the rim of the pastry with the egg wash (this works as a glue).
– Repeat the rolling for the other sheet and cover the pies making sure that the top pastry touches all the way around onto the egg wash. Presst the edges down.
– Depending on how crative you feel, you could use a fork or create some interesting designs on the edges of your pies. But one thing is sure, you must trim the edges, and remember to cut a small hole into the top of the crust so that steam can escape.
– with a pastry brush, wash the eggwash over the pastry.
place pies on a baking sheet and bake in the middle of the oven accoring to the pastry directions, or until golden brown.
– When they come out of the oven, I know this is hard, but let the pies sit for at least 10 minutes, as they are too hot to eat.
Enjoy!
POSTED IN Blog
October 6, 2013
To everyone who attended the Chocolate Paradise on Saturday 5 October 2013,
You are all amazing! And it is always a pleasure working with you!
I would like to extend a speacial thanks to my dear friend Rene, whom without I am sure I would have crashed and burned. Rene, you are the best assistant anyone could ever have.
Furthermore, the students who volunteered to help, and who were ordered to help, every single one of you are worth your weight in gold, you are bright, helpful and are always welcome in my kitchen. You helped make this day a success.
So without further ado, I have posted the recipes and techniques in the "techniques" section of this site, please feel free to contact me for any information that may be missing from these notes. I am also editing a video that will explain, step by step how to temper chocolate.
Happy cooking!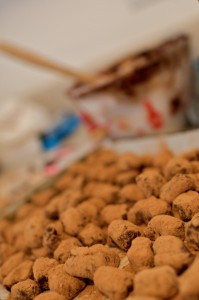 POSTED IN Blog
March 20, 2013
My love for vessels may border on fetish, I am well aware of this.
But really, how could you not take these lovelies home with you? Maybe it was because I buy bowls the same way some girls buy shoes.
Typical girl:
"Having a bad day?""Why yes, I think a will buy some shoes to cheer me up."
Me:
"Having a bad day?"
"Yep, BUT Look at all the pretty bowls I bought!"
And honestly it is not just food bowls, really any kind of vessel will bring this little burst of joy to my life. Things that hold other things.
These particular finds were not really intentional, I was really looking for some pho bowls. Believe it or not, I do not cook every meal. And I love pho. So every once in a while I walk to my corner pho shop and get some to take home with me. This, paired with some bahn mi, you have this girl's favorite comfort food. Fortunately you can get these both at your local Vietnamese restaurant. Living in Hawaii will make you love these foods, pho being a thin brothy beef soup, with rice noodles, and a myriad of beef "products" in it, everthing from brisket, and thin slices of beef to tripe, tendon and beef balls (not a testicle, and also not a meatball, but some sort of beef product of tastiness). Hmmmm Bahn mi. These are vietnamese sandwiches, made with some of the best French bread you will ever taste (this is due to Vietnam beloning to France for such a very long time). with pickled daikon, carrots and some lovely meats and cilantro.
So back to the bowls. I am in this little Japanese market looking for pho bowls as I wanted something ceramic, preferrably porcelain. Most restaurant supply companies only sell the porcelain ones in case count size. And I am not opening a Vietnamese restaurant or feeding a small Third WOrld Country which would make 12 so very unnecessary, I really only need four bowls.
And believe me, there is no shortage of porcelain bowls in this place. Now my search has boiled down to which pattern I can see myself eating out of. I really want something simple, with almost a minimalist design, if any. But, alas, I settle on a little hand painted curly design. Not my favorite, but they will do nicely.
As for the really cool bowls, these were the ones that initially caught my eye, but they are not good for pho, too shallow and wide, pho needs a nice deep bowl. I just could not leave the store without these two, they are pretty and I can imagine the beautiful food that I will be putting in them. The lighter, almost white one I can see with a cold soba noodle salad. the blue one may get some sort of spicy eggplant salad.
Colorful food for colorful bowls. My obsession is justified.