POSTED IN Blog
March 7, 2013
It should be known that I really hate boneless, skinless chicken breast. I will do almost anything to not have it on a menu. If you are to cook that poor, sad piece of cardboard, consider buying the bone-in version and remove the skin. At least the bone will impart some flavor.
As a cook, I like the skin, it gets crispy, and soaks up flavor and not to mention it serves as a barrier agains drying out.
I like thighs. There, I said it. Fatty, dark meat. YUM.
However, I do find myself catering to someone trying to lose 15lbs before running a triathlon in the very near future…
So I have to make a few sacrifices. And boneless, skinless, thighs is the answer. The still have enough moisture and a little fat so that they don't dry out and don't taste like cardboard.
Plus they are a fraction of the cost. Yay on all fronts!
So, as you may know, these boneless thighs are long in shape, which makes it really easy to stuff them.
Here is what I did:                                                                                                                                                                                                                                                                                                                                        Heat your oven to 400˚F                                                                                                                                                                                                                                                                                                                            Lay the chicken on it's "back" with the area that used to house the bone facing up. Season wit salt and pepper. Layer the mozzarella then the basil and then tomato on about half of the meat.                 Make sure to season the tomatoes. Then fold over the other half of the thigh to create a pocket.                                                                                                                                                                                          Place the chicken in a roasting dish  and roast in the oven until brown and cooked, about 30 minutes.
Meanwhile, make the balsamic glaze. Now please do not use the most expensive balsamic vinegar, in fact you could use the least expensive one you can find in the market for a glaze. Heat a small sauce pan and add about a cup of the vinegar and bring to medium heat, the vinegar will bubble and boil, keep reducing the vinegar until it coats the back of a spoon. this will be your glaze.
My recommendation is against store bought balsamic glaze, they tend to add a stabilizer, such as xantham gum to make it shelf stable. And although this is a safe ingredient, I think it an unneccisary addition when you can easily make this st home and keep in the fridge.
Back to the dish…
When the cheese is melted and bubbling, and the chicken is brown you will know to take it out of the oven, let it rest for a minute and then plate. Drizzle with the Glaze and serve.
Cheers!
POSTED IN Blog
February 21, 2013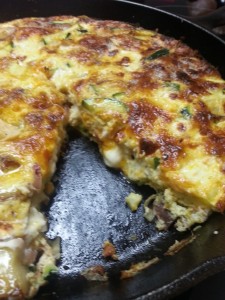 I have always loved cast Iron.In fact, most of my cookware is cast iron.
Whether enameled or seasoned, really cheap or monstrously expensive, I love cooking with the stuff.
It really is the best value for money, even heating heat retention and the fact that maintenance is pretty easy…
But wait! There's more!
Non-enameled cast iron cookware will actually impart some iron into the foods that are cooked in these vessels, therefore giving it a great flavor.
Also, their even heating is second only to copper cookware (that no one can afford).
This is versatile cookware, you can use it on ANY heating surface, including a campfire.
Not to mention that it will last for decades and even generations if you take a little time and care for your pans.
Besides all these really great reasons to own them, you can sear a steak like nobody's business in cast iron, and then transfer the entire pan into the oven to finish it off, then back onto the stove to make you pan dripping sauce. Who needs a grill when you have cast iron and high heat?
Now, you may ask what brought on this rant? Well, this post and the previous, both have  cast iron pans in the photo… Once my cookware was documented photographically did I realize that I may have a small obsession. I make pot pies in the pan, desserts, last night it was a frittata (only because I really needed to clean out the fridge). But you must see that is really no reason not have my obsession too. It's a healthy one, and can be very rewarding, flavor-wise.
Cheers
POSTED IN Blog
February 20, 2013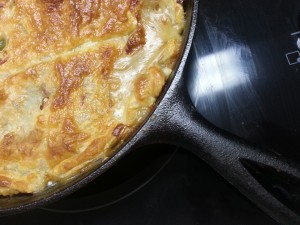 There are days when all I need is a little comfort.
Of all earthly comforts, I think puff pastry may be my favorite.
The fact that I made it in a cast iron skillet is merely a bonus.
Generally when I make a chicken pie, I would use all the pastry and build a crust that fully surrounds the delicate filling.
This time, however, I had cooked the chicken filling in the pan.
Being a weeknight, and trying to fend off the starving boyfriend, I just put the pastry over the already hot filling in the pan and baked this as a one pot meal.
Not the most inventive meal I have ever made; the chicken was purchased rotisserie chicken, I cooked a basic mirepoix (onions, celery and carrots), added some rosemary and garlic, stock, a splash of cream and some flour for thickening. Accompanied by that crisp crust, I think this simple comfort dish will be made again soon… with variations.
Needless to say, it made the boyfriend happy.