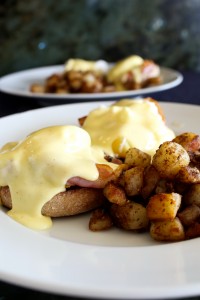 … And not the shitty out-of-a-packet crap that you get at bad coffee shops. I mean the real stuff. Homemade Hollandaise, pancetta, and perfectly poached eggs.
This picture is something that makes me salivate in these culinarily dreary days of January when we have clearly decided that those extra twenty pounds are unacceptable.
These were no mere eggs benny with the perfect crispy pancetta and whole wheat English muffin, and my mother's fried spicy potatoes, par boiled and finished in some oil and coriander, cumin, paprika and a little cayenne, fried to crispy perfection.
Yup. Diet days are here…