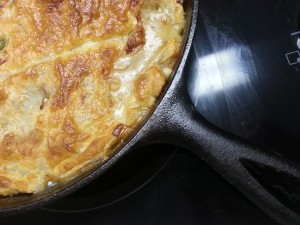 There are days when all I need is a little comfort.
Of all earthly comforts, I think puff pastry may be my favorite.
The fact that I made it in a cast iron skillet is merely a bonus.
Generally when I make a chicken pie, I would use all the pastry and build a crust that fully surrounds the delicate filling.
This time, however, I had cooked the chicken filling in the pan.
Being a weeknight, and trying to fend off the starving boyfriend, I just put the pastry over the already hot filling in the pan and baked this as a one pot meal.
Not the most inventive meal I have ever made; the chicken was purchased rotisserie chicken, I cooked a basic mirepoix (onions, celery and carrots), added some rosemary and garlic, stock, a splash of cream and some flour for thickening. Accompanied by that crisp crust, I think this simple comfort dish will be made again soon… with variations.
Needless to say, it made the boyfriend happy.